Flat Rock, Our Hometown's first annual Christmas Passport drawing took place Wednesday morning (Dec. 16, 2015) at City Hall with City Clerk Meaghan Bachman drawing the winners.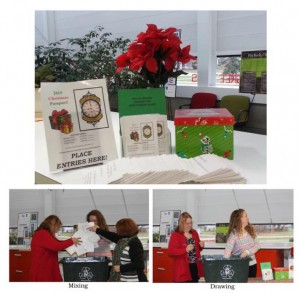 The winners are as follows:
1st place $500 in Flat Rock Dollars
Katy from South Rockwood, MI
2nd place $250 in Flat Rock Dollars
Val from Flat Rock, MI
3rd place $100 in Flat Rock Dollars
The Shensky Family Flat Rock, MI
Winners will be awarded their prizes at the Flat Rock City Council Meeting on Monday, December 21st 2015 at 7:30 p.m.
Flat Rock Dollars may be spent at any of the thirty participating businesses that supported the 2015 Christmas Passport Program. You can see the list below.
The Flat Rock Dollars, which are in $5.00 increments, can be used as cash. The Flat Rock Dollars carry no cash value. Winners will have until February 29th 2016 to spend their Flat Rock Dollars.
In the first year of the program, which ran from November 1st 2015 – December 15th 2015, resulted in three hundred entries for the prizes; generated nearly $50,000 in sales for the thirty participating Flat Rock businesses; and drew customers from twenty-three nearby communities.
The Flat Rock, Our Hometown committee would like to thank all individuals those who participated and all the businesses listed below.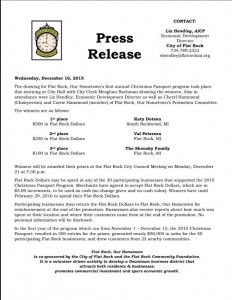 2015 Flat Rock Christmas passport program.
More importantly, support our local merchants and let them know you're supporting their participation in the Christmas Passport program by having them record your business in your passport.
2015 Christmas Passport Participants
Anytime Fitness 24619 Gibraltar
Bashars's Middle Eastern Cuisine 27103 Telegraph
Champion Pet Salon 26268 E. Huron River Drive
Crest Ford 22675 Gibraltar
Darlene's Flowers 26249 E. Huron River Drive
DoSan's 29048 Garden Blvd
Fiesta Grande 27003 Telegraph
Flat Rock Animal Clinic 27116 Telegraph
Flat Rock Community Center 1 McGuire
Flat Rock Do It Center 26329 E. Huron River Drive
Flat Rock Party Store 28418 Telegraph
Jet's Pizza 28398 Telegraph
Kate's Kitchen 26558 W. Huron River Drive
Leo's Coney Island 26988 Telegraph
Masserant's Feed & Grain 27550 Telegraph
Michael's On the River 28288 Telegraph
My Salon 26854 Telegraph
One Hour Martinizing 28620 Telegraph
Pet Needs, Etc 28325 Telegraph
Salon Europa 27395 Telegraph
Salutes/The Roc Wine Bar 26123 E. Huron River Drive
Shagg Salon 26317 Gibraltar
Simpler Times General Store 26314 E. Huron River Drive
Southern Scensations 27419 Telegraph
Sprint Wireless 27342 Telegraph
Strands 26318 E. Huron River Drive
TJ's Top Value Muffler 28935 Telegraph
Tom's Collision 26813 Telegraph
Victory Lane Quick Oil Change 28915 Telegraph
Zorba Coney Island 26582 Telegraph
---