Darlene's Flowers and Gifts in Flat Rock Michigan.
Valentine's Day is just around the corner and Flat Rock, Our Hometown only thought it appropriate to feature Darlene's Flowers and Gifts as the Featured Business of February 2018.
Darlene and her late husband (Donald) were married in 1959. The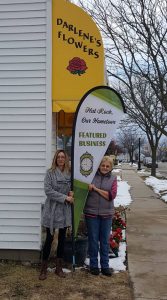 y took over his parent's 7500 sq. foot greenhouse/flower shop (Sochocki Flower & Greenhouse) in New Boston in 1960. Donald was a horticulturist and together they sold cut flowers and annual flowers to Downriver florists. As Darlene delivered flowers to local florists, she took the opportunity to ask them how to make bows or to provide tips on how to arrange flowers. Darlene would spend her nights practicing until she perfected it. Before long she was selling flower arrangements on her own.
Darlene and Donald also sold flowers at Eastern Market every Saturday. Their granddaughter Jessica started to help when she was 12. Jessica eventually took over the Eastern Market Business and along with her husband (Sochocki Flower & Greenhouse) still sells annual and cut flowers out of shed 5 to this day every weekend.
Darlene Sochocki opened Darlene's Flowers and gifts in Flat Rock in 1984. All their flowers were supplied from their greenhouse in New Boston, until a hail storm destroyed the greenhouse in 2013. Darlene still buys flowers from local greenhouses and local wholesalers and creates beautiful arrangements for every occasion. Darlene has been arranging flowers for 57 years, and as we discussed her history, she talks about flowers with excitement, how she feels arrangements should look down to very last detail. Darlene emphasized repeatedly that it's her name on that bouquet and that she wants it perfect!
To make your special occasion perfect, visit Darlene's Flowers & Gifts. Darlene delivers beautiful Flowers for the downriver/Monroe area.
Remember, Shop Local, Shop Flat Rock!
Darlene's Flower & Gifts
26219 E. Huron River Dr.
Flat Rock, MI 48134
734-782-2266
6622@att.net
"Serving you with country charm" Delivering around the corner and around the world.
Friendly services
Distinctive Floral Design
Fresh, Silk & Dried Flowers
Country Crafts & Gifts
Balloons
Flowering & Green Plants