Flat Rock our Home Town featured business.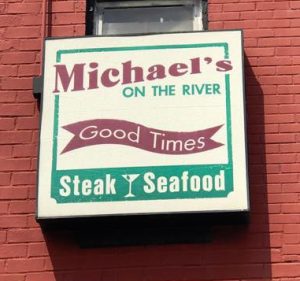 Michael's on the River celebrated their 20 year anniversary August 31.
Carole and Michael took over George's bar in 1998. Their three children, Kelly, Michael Jr. and Kim, all came on board to help.
Michael said, how hard can it be, a beer, a shot and a burger?
Well twenty years later they are serving more than beer, shots and burgers.
They have a great and diverse menu. One secret item is walleye, served Thursday, Friday and Saturday, come early it sells out quickly!
The family has grown, too. Most of Michael and Carole fs grandchildren work at the restaurant.
Michael grew up in Flat Rock. He is always supporting the community. Serving on the Downtown Development Authority (DDA),
supporting events and his favorite, the Flat Rock schools. Michael is a huge local sports fan and a local sports icon.
Michael held the title for most stolen bases for Flat Rock baseball for 30+ years, along with the most football passes for 10.
It is apparent how important family and extended family (their employees) are to them.
Ginger is one of their employees that has been with them from the beginning, Carole is the backbone of Michael's on the River.
Without family, their wonderful employees, and of course the people of Flat Rock, Michael's feels they wouldn't be as successful.
Michael's on the River is definitely the Flat Rock version of Cheers where everybody knows your name.
Michael's on the River is a great local restaurant and bar with an enjoyable atmosphere, great food and friendly staff.
Check them out have a beer, a shot and a burger!
Michael's On The River
28828 Telegraph Rd,
Flat Rock, MI 48134