Flat Rock began as a Wyandot settlement. It was later designated as a reservation for the Wyandot, and still functioned as such in 1830.
The first Euro-American settlers in Flat Rock were Michael Vreeland and his five grown sons between 1811 and 1820. Michael had been captured by British Rangers during the Revolutionary War and released after American independence. The family purchased 800 acres (3.2 km2). The town was called the Village of Vreeland until 1838 when the Vreeland family sold off the majority of the land and relinquished control of the area. The Vreeland families built the first grain and lumber mill, having brought the grinding stones from New York. Descendants of Michael Vreeland still live in the town and attend Flat Rock public schools, being the seventh generation to reside in the town their family founded.
The first mention of any settlers in the area later to become Flat Rock was made by a French priest, Father Jean Dilhet. In describing his parish in 1798 he included "Grosse Roche", referring to a settlement named after the outcropping of limestone rock on the south side of the Huron River.
In 1818, a land office opened in Detroit, and Soloman Sibley purchased 330.93 acres (1.3392 km2) of land. In 1824 it was sold to Michael and Jacob Vreeland. The villages of Vreelandt and Smooth Rock were platted on part of this acreage. At this time there were Huron, Seneca, and Wyandot Indian villages in the area.
With the opening of the Erie Canal in 1825, large numbers of people, especially from New York, came to Michigan to settle. By 1828 the village had four stores, two saw mills, a wood carding mill, a flour mill, and 250 inhabitants – serving as a center mainly for farmers who lived in the area immediately surrounding the settlement.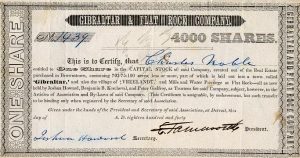 The village of Flat Rock was platted and recorded in 1838 by the Gibraltar and Flat Rock Land Co. They were attempting to build a canal to connect Lake Erie with Lake Michigan. This effort ultimately failed.
Henry Ford was attracted to the water power of the Huron River, and in 1925 he established the Ford Motor Company Lamp Factory along its banks.
The area was incorporated as a village in 1923 and as a city in 1965. While Flat Rock is a rapidly growing community today, even with its growth, it remains a unique "small town" with many of its residents having roots reaching back to the 1800s.
From the 1930s until the e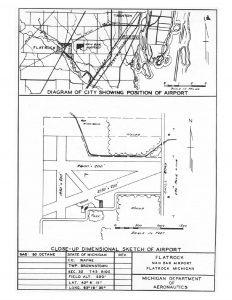 arly 1960s an airport was located in Flat Rock. The grass airfield was known as Nan-Bar Airport, named for the owner's two daughters, Nancy and Barbara. During World War II Nan-Bar Airport served as an accessory airfield for Naval Air Station Grosse Ile. Navy pilots used the airfield for short field landing instruction, as well as for emergency landings.