2016 Christmas Passport Winners Announced at December 19, 2016 City Council Meeting.

Liz Hendley, Economic Development Director and Cheryl Hammond, Chairperson of Flat Rock, Our Hometown's Promotions Committee, announced the winners of the 2016 Flat Rock Christmas Passport Contest at Monday evenings City Council meeting. There were 41 business partners, compared to 30 in 2015. Nearly 350 participants turned in their Passports for a chance to win.
The Grand Prize of a Basket filled with gifts from all 41 participating businesses contained over $300 in gift certificates and hundreds of dollars in products and gifts. The basket was won by Dave Bielat of Flat Rock.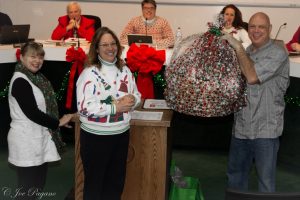 Cheryl Hammond, Liz Hendley, Dave Bielat
Back Row: Dave Grunow, City Attorney; Mayor Dropiewski and MeaghanBachman, City Clerk
First Place of $500 in Flat Rock Dollars that can be spent at any of the 41 participating businesses was won by Harold Cordum of Flat Rock.
Second Prize of $250 in Flat Rock Dollars was won by Jeff Jodway of Flat Rock.
Third place of $100 was won by Wendy Sue Wilson of Flat Rock.
This was the second year for the Christmas Passport, created and sponsored by Flat Rock, Our Hometown, and the program is growing successfully. The main goal of the program is to encourage participants to shop local and support Flat Rock businesses. One participant, new to the program this year, stated "I found a new hair dresser who referred me to other great local businesses. I am finding things in Flat Rock I never knew about! I hope you continue to do this program every year!"
The program runs from late October to mid-December, giving participants roughly six (6) weeks to complete their passports by visiting local businesses for stamps in exchange for purchases. We thank all of our businesses and participants for shopping local and shopping Flat Rock!
Thank you for shopping local!
Thank you for shopping Flat Rock!
---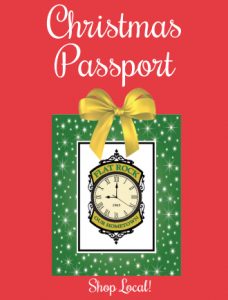 October 24 – December 15, 2016
WIN ONE OF THREE SHOPPING SPREES!
GRAND PRIZE: $500.00
SECOND PRIZE: $250.00
THIRD PRIZE: $100.00
All prizes are awarded in Flat Rock Dollars, spendable at participating businesses.
SPECIAL DRAWING!
Complete your passport with six (6) DIFFERENT stamps from six (6) DIFFERENT businesses and you will be eligible to win a basket filled with gifts from all participating businesses!
PASSPORT RULES
Look for the Flat Rock, Our Hometown clock decal at local businesses
A full list of participating businesses is available online at: flatrockourhometown.com
Visit six (6) local participating businesses and complete the squares on the passport
The passport MUST have stamps from AT LEAST THREE (3) different businesses, which means you could get up to four (4) stamps from one business, and two (2) more stamps from two (2) different businesses participating in the program.
Remember, six (6) different stamps enters you into a special drawing for a basket filled with gifts from ALL participating businesses!
Get bonus stamps on Small Business Saturday weekend from November 25-27! (Remember, to be entered to win the SPECIAL DRAWING basket filled with prizes from all the businesses, your passport must have SIX (6) different stamps from SIX (6) different businesses on ONE (1) passport form. Ask that bonus stamps be entered on separate passports for more chances to win!)
Fill out the back of the passport and drop in the box at City Hall for a chance to win prizes
Passports MUST be submitted to City Hall by December 15, 2015
Start another passport for more chances to win (only ONE prize per person)! There are four (4) passports included in this booklet for your convenience.
Drawing will be done on December 16, 2016 and awarded at the City Council meeting on December 19, 2016. You are NOT required to be present for the drawing, but we ask that you plan to attend the City Council meeting on December 19, 2016 at 7:30p.m. if you are notified that you have won one of the prizes.
PARTICIPATING BUSINESSES
The following forty-one (41) businesses are participating in the 2016 Christmas Passport Program:
Abby's Mutt Hutt, 26464 W. Huron River Drive
Adolph's Towing, 28299 Telegraph
B.Y.O.B. Build Your Own Burrito, 26068 E. Huron River Drive
Bashar's Middle Eastern Cuisine, 27103 Telegraph
Biggby Coffee, 26614 Telegraph
Blue Heron Trading Company, 26217 E. Huron River Drive
Captain Nemo's, 28801 Telegraph
Champion Pet Salon, 26268 E. Huron River Drive
Crest Ford, 22675 Gibraltar
Cricket Wireless, 26670 Telegraph
Expo Nails, 26606 Telegraph
Family Farm and Home, 27301 Telegraph
Fiesta Grande, 27003 Telegraph
Flat Rock Animal Clinic, 27116 Telegraph
Flat Rock Auto Care, 28810 Telegraph
Flat Rock Community Center, One Maguire
Flat Rock Do IT Center, 26329 E. Huron River Drive
Hair Classics, 26646 Telegraph
Hungry Howie's Pizza, 24637 Gibraltar Road
Jim's Butcher Shop, 28418 Telegraph
Kate's Kitchen, 26558 W. Huron River Drive
Leo's Coney Island, 26988 Telegraph
Marlo's Cutting Crew, 25658 E. Huron River Drive
Masserant's Feed & Grain, 27550 Telegraph
Michael's on the River, 28828 Telegraph
My Salon, 26854 Telegraph
Nutrition Hub, 26452 W. Huron River Drive
Old Town Bar, 27298 Telegraph
Pet Needs, Etc., 28325 Telegraph
PKSA Karate, 27383 Telegraph
Salute Special Events/The Roc Restaurant & Wine Bar, 26123 E. Huron River Drive
Sherry's Academy of Dance, 27369 Telegraph
Simpler Times Downtown General Store, 26314 E. Huron River Drive
Southern Scentsations, 27419 Telegraph
Sprint, 27342 Telegraph
Strand's, 26318 E. Huron River Drive
Tom's Collision, 26813 Telegraph
Top Value Muffler, 28935 Telegraph
William DoSan's, 29048 Garden Boulevard
Wimpy Burger, 26128 Gibraltar
Zorba's Coney Island, 26582 Telegraph
Thank you for shopping local!
Thank you for shopping Flat Rock!